Z-wave 868.4 Mhz  European frequency models
Total Control in One Simple Solution
The Controller for Today's Expanding Smart Home Universe
 – Our Systems is compatible with a wider universe of devices than any competitor (including over 1200 Z-Wave devices).

 – Control over 1200 devices in your home or business.

 – WPS easy push button pairing for Wi-Fi devices.

 – Multi camera viewer dashboard, and camera hot zone motion detection.

 – Easy interview style setup procedure.

 – Use mobile apps to set up and remote control your system from any iOS or Android smartphone  or tablet, or use your computer (Mac or Windows).

 – Easy, intuitive interface is the same across all platforms.

 – View and control your system from anywhere in the world (where there's Internet.). Or enjoy – local control in your home or office, without any issues of latency, even when the Internet is down.

 – Geofencing—the system can know who is arriving/leaving based on cell phone location, so for example, your thermostat can change automatically as you drive close to home.

 – Advanced occupancy sensing, push notifications, and creation of custom automation scenes where one device triggers another—or use time of day, sunrise/sunset, or other triggers to control lights, door locks, thermostats, etc.

 – Receive notifications when kids come home, employees arrive or leave, when water is detected in the basement, when the smoke detector triggers, or when anything else happens with your Z-WAVE system.

 – Integrated help is available at every step of installation and operation, with contextual help based on the activity, plus detailed documentation on our support site.

 – New energy management features include reporting of household energy consumption (with daily, monthly and annual reporting) and quick dashboard display of energy stats.

 – You can choose from over 100 apps from independent (third party) developers.

Z-wave features improved access control with simple PIN management—give everyone in your household (or business) their own codes for locks and system access.

 – New user customizable dashboard with favorite devices pinned for easy viewing, access and control.
START BUILDING YOUR INTELIGENT HOUSE SYSTEM TODAY
With more than a thousand compatible devices the possibilities are nearly endless. From lights to locks, thermostats to motion sensors. You can choose freely from dozens of well known brands like GE Jasco, Honeywell, Kwikset, Leviton, Schlage, Yale, & many more.
Z-Wave puts the power of home control and monitoring in the palm of your hand… literally. With your smart phone, tablet or PC you can control and access your Z-Wave devices at home.
Z-Wave is a wireless technology that makes regular household products, like lights, door locks and thermostats "smart". Z-Wave products "talk" to each other wirelessly and securely and can be accessed and controlled on your phone, tablet or pc.
By using a Z-Wave gateway you can connect to the things inside your house whether you're at home or while you're away. Currently there are nearly 1000 different Z-Wave products that all work together so you can choose the products that are right for your home
---
What is Z-Wave
Z-Wave is a wireless communications protocol designed to help you improve your home, office or vacation spot.It gives you remote access to your entartainment system, lights, doors, kitchen apliances and many other electrical devices from your laptop or smart phone.Z-Wave does this by embedding a low-power radio frequency signal into an electronic device of your choosing.Z-Wave operates in the sub-gigahertz frequency range, around 900 MHz and is designed to be easily embedded in consumer electronics products, including battery operated devices such as remote controls, smoke alarms and security sensors.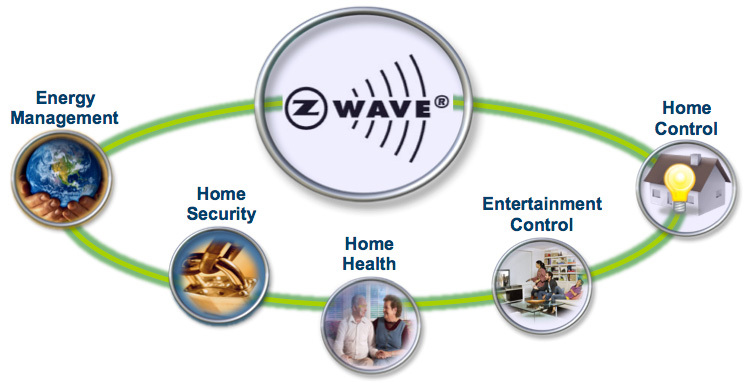 How Do You Benefit With Z-Wave
Home automation with Z-Wave is where technology, peace of mind, and comfort meet to build a dynamic and synced wireless network.With Z-Wave you have complete control over all home devices and appliances.You can tell a device exactly how, when, and why it needs to react. You can also specify a schedule to automate the working of either one device, or many devices that will work togheter.This gives you the following benefits:
Convenience: Of controlling your home from any location or even from an area in another region.
Savings: Z-Wave home automation works effectively to save much money on your energy bills as well as to save on device purchases due to low-cost chips.
Security: The controls of this wireless technology are always guarding your home, thus, ensuring security through surveillance. Right from a camera's monitoring eye to a water sensor alerting you of a probable leak, the Z-Wave automated security system maintains your home under surveillance for you to take quick steps instantly for dealing with an unwanted situation.
Fun: Making most tasks automated at home is really fun. It is just getting involved by specifying your own settings and preferences and sitting back calmly without any worries. Although the technology seems to be a bit complex, it is actually user friendly as well as versatile.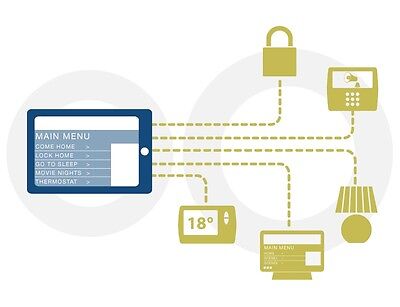 Z-Wave at Home
When you're at home you can use your tablet or smart phone to control your environment.
Create scenes so with the touch of a button you can create "movie night" or "go to bed". You can choose which Z-Wave products you want to control.
Make a "wake up" scene that warms the house, turns on a few lights and starts your coffee.Enjoy movie night with the family with just the right amount of light.Use your tablet as a bed side companion to help feel safe.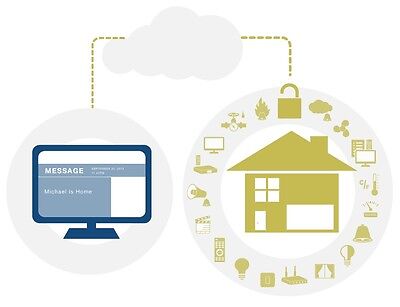 Z-Wave at Work
Using your computer you can receive instant message alerts from your home.
It's great to stay connected with your loved ones and keep an eye on the house while at work.
Receive message alerts when your kids come home.Turn the heat off when you know you have to work late.Give the illusion someone is home by controlling the lights, shades and television.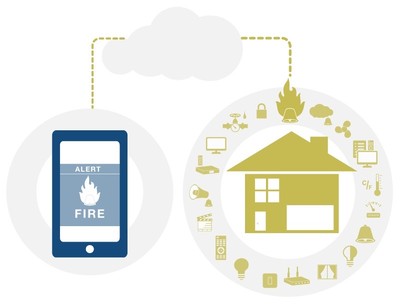 Z-Wave on the Go
Use your smart phone.
Keep an eye on things, control your energy or simply let people in your house even when you are away.
Your smart phone connects you to your home and gives you peace of mind that everything is ok, even when you're far away.
Turn on the heat when you're heading home.Receive an alert if something goes wrong.Control who goes in and out of your house."Shut down" your home when you leave
Lock me – The Ideal Master Controler
What You Need To Get Started
Contact Us